Studying Russian can be both fun and rewarding. Maybe you have never spoken Russian before. Perhaps you need university-level training in listening, reading, writing and speaking. We have an Intensive Russian Language program especially designed for you!
The Faculty of International Education offers Intensive Russian Language courses of all proficiency levels, from beginning to advanced
- 1st level for beginners;
- 2nd level for those who have some knowledge of Russian;
- 3rd level for advanced learners.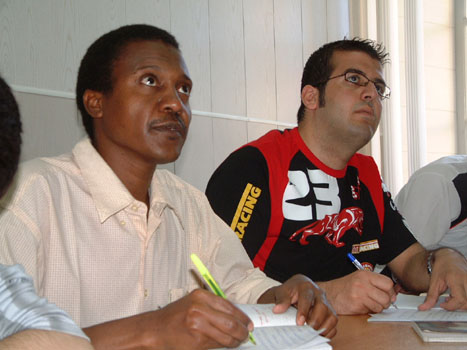 Our curriculum emphasizes real-life situations. Our teaching methods ensure you'll learn quickly. Lessons are held 30 hours a week with the use of audio - video materials and multimedia means in specially equipped rooms. You will begin speaking Russian from the very first day of class! Intensive courses include preparatory phonetic course, grammar and lexical materials.
Cultural program includes: sights seeing of Tambov, visits to the theatre or concert hall, excursion to some historical and cultural places of Tambov region.
Courses' duration is 1-6 months. The tuition fee is 1200 Euro per 1 month for 1 group (1-6 people). If the group consists of 2 students the tuition fee is 600 Euro per month for 1 student, if the group consists of 3 students the tuition fee is 400 Euro per month for 1 student, and etc.
It is possible to study individual program or special programs according to the specialty. The tuition fee is 10 Euro per 1 academic hour for 1 person.
International students live in comfortable hostels and student's hotel. There are available double and single rooms. The rooms are equipped for life and study. The cost of living of 1 person is 300-500 Euro per year. The living wage in Tambov region is about 300 Euro per month.
Address for applications and additional information:
Faculty of International Education, TSTU, Sovetskaya St., 106, Tambov, Russia, 392000
Tel./fax: (4752) 63-20-24
E-mail:
fmo@decin.tstu.ru
,