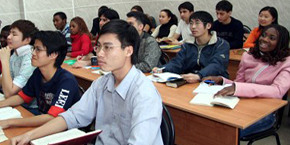 Master's Program Financial Management
38.04.02 Management
Master's Program Financial Management is aimed at training managers in the strategy and tactics of financial management of an organization.
Program duration is 2 years
On completion of the program, students will be able to:
analyze financial reports and make reasonable investment, credit, and financial decisions;
evaluate investment projects under different financial conditions;
use financial management techniques for company assets valuation;
use methodology of financial planning and forecasting;
make securities and derivatives transactions;
analyze company performance and work out sound management decisions.
The curriculum includes the following core subjects: Modern Management Technologies; Financial and Economic Analysis; Corporate Finances; Organization and Investment Financing; Forecasting and Planning in Market Conditions; Securities Market; Financial Controlling.
Employment opportunities:
Commercial banks, insurance companies and other financial and credit institutions;
Investment and pension funds, leasing and trust companies;
Accounting firms, consulting and clearing organizations;
Units of the Ministry of Finance, the State Tax Service, the Federal Treasury, control and audit authorities;
Currency and stock exchanges, brokerage companies.