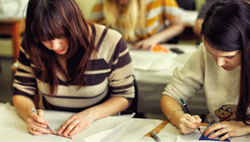 Tambov State Technical University provides availability of quality education at all training levels by means of diversified specialities, terms and forms of educational services. All this allows TSTU to gain a prominent position in the system of higher education for more than half a century giving graduates significant competitive advantage and a start for professional growth and development.
According to a new organizational structure the planning and management of TSTU educational activities are realized by the Education Department under the guidance of the First Vice-rector. The Department manages a subsystem of general secondary and secondary vocational education (including Polytechnic Boarding School for gifted children, Technical and Multidisciplinary Colleges), a system of higher education, Admission Office, Office of Lifelong Learning, Educational and Methodical Department, Department of Innovations in Educational Activities, Institute of Additional Professional Education, Communication Policy Department, Publishing and Printing Center, Scientific Library and Methodical Council
University educational activities are carried out in specialized educational and scientific complexes named institutes. The activities involve training of specialists and academic staff on the educational programs of three-level professional training and additional professional education in the priority directions of science, technology, engineering and economic development. Educational and scientific complex of each institute includes graduating departments (chairs), basic departments and chairs established together with research institute of RAS and high-tech enterprises.
TSTU provides students with an opportunity to choose educational programs in different fields of knowledge and professional activities: engineering, informational, applied humanitarian and economic training.
The university offers more than 300 educational programs: training of specialists, bachelors, masters, post-graduates; there is an opportunity to get specialized general secondary education, a working profession, specialities of secondary vocational education, advanced training and retraining. The principle of public and available quality education enables each student to choose his own education pathway in a system of TSTU lifelong learning. The development of academic mobility system of students, post-graduates, academic staff , export and import of educational services, internationalization of educational programs stimulate university integration into the international educational and research space.
Special attention is paid to quality enhancement of educational services. The methodical service develops innovation technologies and tutorials, up-to-date methodical complexes for educational programs and programs for additional education for TSTU students. The educational programs being implemented by means of distance learning technologies reach a new high-quality level.
Achieving the goals set in the sphere of educational activities becomes possible with further development of multilevel education system.
The system of lifelong learning is developed at a high level at university - "Education through the whole life" is a strategic objective for TSTU.
The higher education as the main part of higher education system is presented by more than 50 Bachelor, Master and Specialist programs. The system of additional professional education offers a broad range of specialities and programs.
Being responsible for scientific and methodical tutoring, university departments cooperate with all the schools in the region and Center for Technological Education of School children.
Specialized university classes are conducted with profound training on some subjects.
Applied bachelor programs are carried out as an important practically oriented component of developing system of lifelong vocational education in the Tambov region. The cluster approach divides all the enterprises and educational institutions into six territorial and sector educational clusters: industrial, agrarian-industrial, transport, building industry, information technology and social sphere. Taking part in each cluster the university creates vertically integrated programs of lifelong learning based on cooperation between its profile institute and basic college of the cluster. University college groups and groups of additional education are available. They give students an opportunity to execute their plans of lifelong training. During secondary vocational education they can begin to study at the Bachelor program and use the individual plan (external studies). TSTU students have a chance to get working profession in addition to the main speciality.
The system of additional professional education is being developed actively as the priority line. Every year over 400 specialists from the Tambov region and neighbouring regions and over 100 lecturers get professional training and advanced training including training in innovative programs. Today the system of additional professional training at the university presents itself an institute comprising ten specialized centres for training and professional development, offering more than 50 educational programs being renewed every year considering changeable demands of economy, industry, growing educational needs for specialists.
Balanced structure and directions of specialities and their correspondence to current and perspective demand of the labour market are confirmed by the fact that implementing educational programs are being developed according to the needs of enterprises and organizations from the point of view of high quality human resource training and forming intellectual human potential for development sectors of the Russian economy and international community.
All the majors and specialities of training are oriented to development of high-tech and key economic sectors. TSTU realizes target training for the military-industrial complex as well. Being the Primary University for regional Economy TSTU trains qualified specialists for regional enterprises having cooperated with the largest city and region enterprises for many years. The list of strategic partners is increasing annually.
Different joint events are arranged, excursions to the enterprises, master classes and training. Enterprise specialists take part in the realization of students' practical training. Students develop their diploma and course projects and papers on topics of current importance for enterprises. The experience shows that over 90% of TSTU graduates find jobs according to profile education and develop successfully their professional career.